SINO-FRENCH SPRING SCHOOL

ON ASTROMETRY

Observational campaigns of Solar System bodies
In a next future, between 2012 and 2016, the space probe Gaia will cover a large space astrometric program drastically improving our knowledge of a huge number of astrophysical objects and Solar System bodies. Regarding the great improvement of the accuracy which will be reached, a fundamental step in astrometry will be done and new challenges will arrive in this domain as well for the space observation and their interpretation as for the ground-based observation. At the present time astrometrists work for the preparation of this important mission but we must think about a long term vision which will ensure the necessary manpower for the researches and the analysis of the huge amount of data. Despite this enthusiastic future, astrometry is no more teached in several countries, therefore students and young astronomers must be encouraged to reinforce the astrometric communauty. In this international context, we felt that spring schools could be an interesting way to foster young students for this specialization. This first spring school on astrometry is planned to initiate this plan and it will be performed in the frame of a Chinese-French collaboration.
Purpose
The optical ground-based astrometry of solar system objects may have its accuracy strongly improved as by using new methods as for the making of observations. Moreover, some new photometric methods of observation of phenomena occurring in the solar system may provide astrometric data with a higher precision than direct classical imaging. In order to help the observers for future campaigns to observe the mutual occultations and eclipses of the natural planetary satellites (2008-2010 opportunity) and to promote observational accuracy, it is necessary to organize a spring school as for PhD and post-doctorals, as for interested young astronomers.
Participants of the School:
This school is opened worlwide as well to PhD and post-doctoral students as to interested young astronomers and amateurs.
Note that the number of participants is limited to 25.
Deadlines
the Spring-school has been held on April 7-12, 2008, in Beijing Planetarium, Beijing, and Xinglong, China.
Organizing Committee:
Dr. Jean-Eudes Arlot, IMCCE-Paris Observatory, France (arlot (at) imcce.fr)
Dr. Jin Zhu, Beijing Planetarium, China (jinzhu (at) bjp.org.cn)
Dr. Zi Zhu, Dept. of Astronomy of the Nanjing University China, (zhuzi (at) nju.edu.cn)
Dr. Wenjing Jin, Shanghai Astronomical Observatory of China (jwj (at) shao.ac.cn)
Dr. Zhenghong Tang, Shanghai Astronomical Observatory of China (zhtang (at) shao.ac.cn)
Dr. Qingyu Peng, Jinan University of China (tpengqy (at) jnu.edu.cn)
Dr. Kaixian Shen, National Time Service Center of China (shenkx (at) ntsc.ac.cn)
Dr. William Thuillot, IMCCE-Paris Observatory, France (thuillot (at) imcce.fr)
This spring school is supported by the following organizations:
Practical conditions
English is the language used during the Spring School.
The cost of the accomodation during the spring school is around 3500 RMB (which is about 350 Euros).
Application form
Registration closed
Contact
Further information may be obtained at this address: spring-school@imcce.fr
Summary of the lectures
a) Fundamental astrometry (6 hours);
b) Receptors, telescopes and images for astrometric purpose (6 hours);
c) Astrometry through photometry and observational campaigns for phenomena (8 hours);
d) Practical astrometry (3 hours/night, 3-4 night).
Download the provisional program (pdf file)
Past spring-school: April 7-12, 2008
You will find soon here material related to the spring school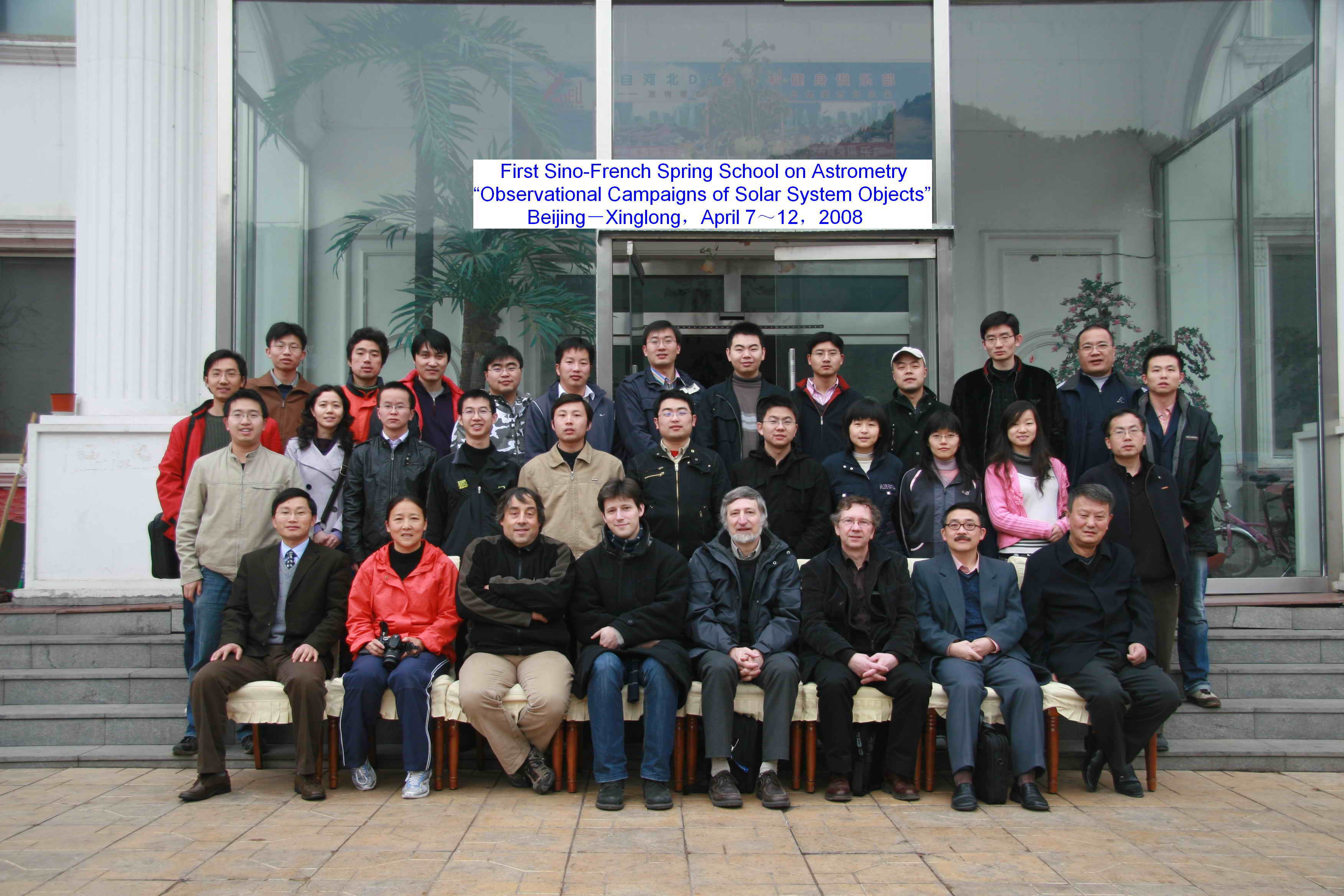 ---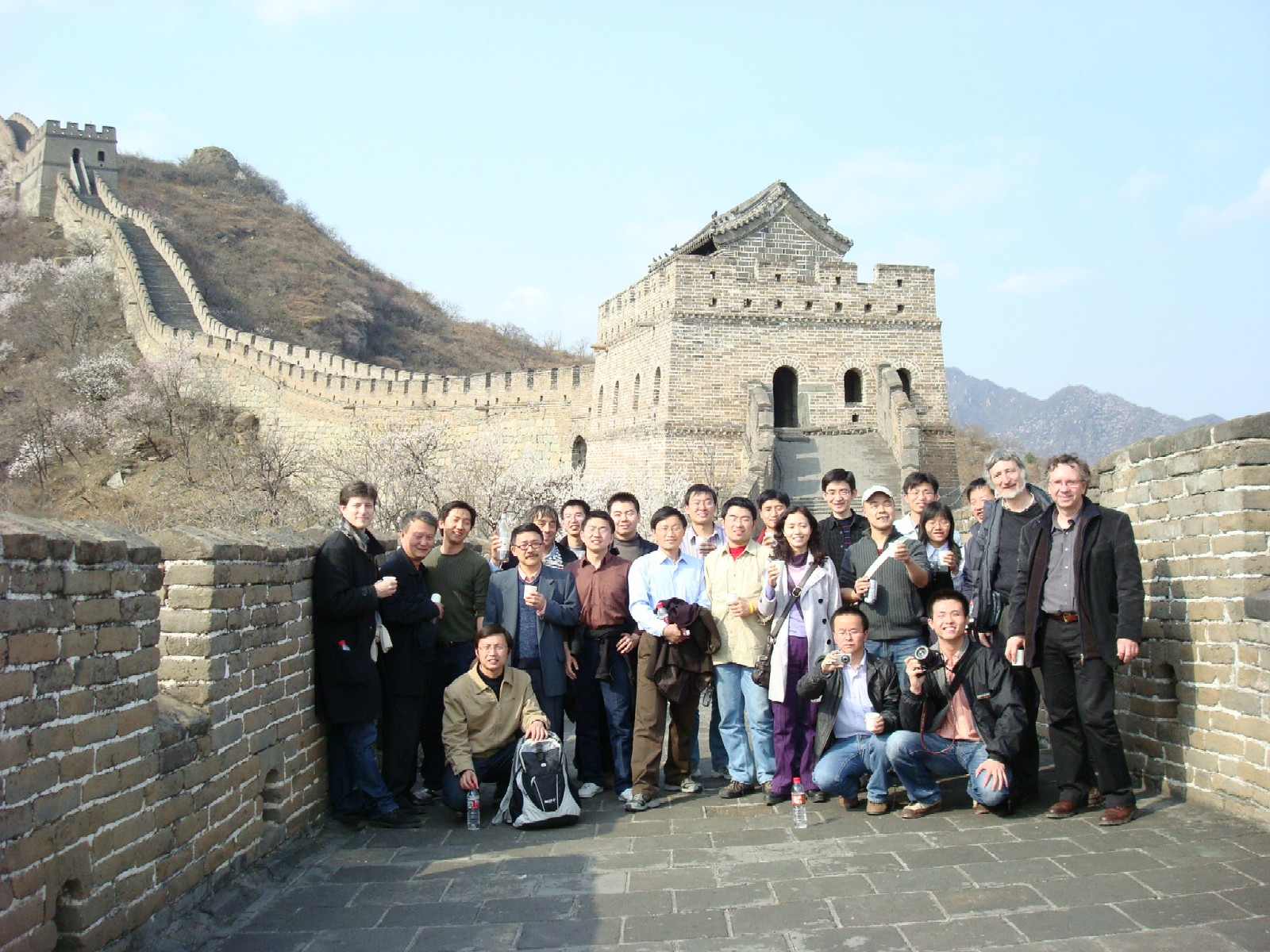 ---
Updated: April 19, 2008- The organizing committee